Translated from "Mathilda Gyllenhaal" by Olle Franzén, in Svenskt Biografiskt Lexikon, ed. Erik Grill, (Stockholm: 1968), pp. 566-568. Translator: Olle Gyllenhaal.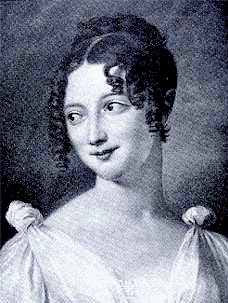 Mathilda Gyllenhaal, painting by an unknown Italian artist. In a private collection.
Gyllenhaal, Mathilda Beatrix Valeriana Maria della Trinitā, born June 14, 1796 in Milan, Italy (according to Montgomery-Cederhielm), died October 19, 1863 at Stora Ekeby, Rytterne parish in Värmland. Parents: the Spanish envoy Don Nicolás Blasco (de) Orozco and Baroness Sabina Ulrika von Lederer. - Composer.
Married, 1) April 5, 1813 in Florence to Master of the Horse Bartolomei Cenami, born June 22, 1775, died October 18, 1815; 2) March 25, 1817 to Colonel Josias Montgomery-Cederhielm, born May 16, 1785 in Stockholm (according to the Orkesta parish records), died August 20, 1825, in Uddevalla, son of Colonel Robert Montgomery and Baroness Märta Ulrika Cederhielm; 3) March 23, 1839, to Chamberlain Baron* Carl Alexander Fredrik Gyllenhaal, born December 31, 1814 in Velinge parish (Västergötland), died July 24, 1910, in Folkärna parish (Småland), son of a member of the cabinet, minister Carl Henrik Gyllenhaal and Baroness Hedvig Charlotta Rudbeck.
Mathilda Orozco had grown up in Florence as a daughter of a Spanish gentleman and an Austrian lady and preferred being considered as an Italian lady. At 17 years of age she was married to an Italian nobleman who was 20 years her senior. At 19 she became a widow, and in 1817 she was brought to Sweden by Colonel Josias Montgomery-Cederhielm, who, already in 1811, during a visit in Rome, had fallen in love with the exotic and beautiful teenager. In his diary from his travels he writes her praise as a rose from the south with an angel's posture, a lovely alto, and the most beautiful voice.
After the marriage in Vienna the couple settled at the entailed estate Segersjö, by the lake Hjälmaren. Countess Montgomery, as she now styled herself, made herself feel at home, learned Swedish quickly, and became an esteemed hostess. Apparently, after a couple of years she found life on the Swedish countryside boring. Consequently her husband rented an apartment in Stockholm, and later on he bought the estate Stora Frösunda in Solna (near Stockholm).
Within a short time, the apartment in Stockholm became a rallying-point in high society. The most important people in literature, art and politics of those days met, and the guests were entertained by intellectual conversation and music. When her husband died in 1825 she moved the receptions to Stora Frösunda, where they continued under less costly circumstances. Soon she belonged to a circle of beautiful, gifted ladies, which Tegnér frankly called the seraglio of Mr. Brinkman. As early as 1823 she had written the music for one of the songs of Frithiof (by Tegnér). After she became acquainted with the poet through the envoyée Brinkman, she wrote the music to another two of these songs, as well as three other poems by Tegnér. According to T. Norlind, she was an educated composer with the capability to control a musical movement. As a composer she has a pregnant style, but with a few rare exceptions her music was not widely distributed. She was a well-trained coloratura singer, and included in her music demanding cadences. Many of them were in the artful Italian aria style. Her music to The Drapa of Ring was simple, without difficult parts, and became popular, together with the hussar-march she dedicated to the regiment of her husband. The former was printed as late as 1904 in a collection of songs for primary schools.
The enthusiasm of Tegnér was at first intense. In letters he tells that the Countess Montgomery sang with her heart and looked like a wedding night. When she had written the music for The Monologue of Axel [sound file WAV 2.52 mb**] and he heard her for the first time interpret the lunacies of Axel, he shivered and almost fainted. When the poet had paid her homage for some years, apparently in vain, the enthusiasm cooled down, and he calls her the Florentine siren. But before that she had inspired him to write the poem Mathilda, wherein she is likened to a nightingale in a wild rose bush. Music for the poem was written by B. Crusell and was widely sung.
Even more romantic are the poems that the future son-in-law of Tegnér, the poet C. W. Böttiger, dedicated to her in the beginning of the 1830s. His reward was the music for his poem In the Moment of Departure. Through her sister-in-law Malla Silfverstolpe she became acquainted with Geijer in Uppsala, who with her in mind wrote the poem The Southern Lady in the North. The English Ambassador Lord Bloomfield tells in his memoirs about "the little miracle," who played the harp like an angel, and sang in six languages. Both he and the Austrian Ambassador, the beautiful Count Woyna, were in love with her. The latter laments in a poem that he has only been offered sisterly love. In a letter to Tegnér in 1823, Brinkman tells that "our little Italian muse became so well considered at the Court, that she was invited to Drottningholm (Palace) every second day." Upon the command of Crown Prince Oscar she at that time composed the reveille and the tattoo of the army.
Although she received with pleasure all homage, her encouragement of her admirers appears to have been within the limit of comme il faut. Certainly her contemporaries considered that her stiff mother-in-law, Ulrika Cederhielm, was in Stockholm in the early part of the 1820s in order to keep an eye on her daughter-in-law. But in the well-known pamphlet The Spy in High Society, edited by C. D. Arwedsson, "the Florentine Baroness [was] the only Lady from the society who was considered above any suspicion."
Her third husband was the dazzling cavalry captain Calle Gyllenhaal (son of Gyllenhaal 3), eighteen years her junior. After their marriage in Paris, Ölanda became her home for ten years time, and thereafter Stora Ekeby in Västmanland. The lady of society now became an ambitious housemistress, interested in vegetable gardening and raising poultry and in the temporal and spiritual well-being of her subordinates. She worked eagerly for temperance, and started schools for poor girls both at Ölanda and at Stora Ekeby. She did not, however, forget the society of the local area, and during the summers she always spent some time at a seaside resort. Gunnar Wennerberg mentions her in 1849 as a visitor in Marstrand, "singing, dancing and coquettish as always." Her husband, whose main interest was in horses, had inherited his father's leaning for a mobile life, and during her latter years she lived for long periods alone while he was in Stockholm. In her collection of music and aphorisms, "At the Christmas fire some years ago," published anonymously in 1854, she makes bitter reflections about men, about the discomfort of growing old, and about the Swedish climate. Throughout her life she retained her Catholic faith. At Easter time each year she visited Stockholm in order to celebrate the holy days among fellow-believers, and during a period of time at Stora Frösunda there was an Italian priest as chaplain of the house. When she died she was forgotten in Stockholm, and in the dailies of the town there are only short comments. M. J. Crusenstolpe, her true admirer, writes her praise for goodness and charm in an obituary in the yearbook Svea.
Her archive is preserved at Segersjö as well as many letters from and to the family. Several letters to and from her have been printed in translation in the 1919 biography written by her grandson Robert Montgomery-Cederhielm.
*He became Baron when his father died in 1857. (Translator's note.)
**This performance of Mathilda Gyllenhaal's music to The Monologue of Axel is from the CD called "Musik på Almare Stäkets Herrgård," by Iréne and Mats-Göran Högström (Track 16, IH hammarflygel, MGH tvärflöjt). Used with permission.
Top | Home
---
The Gyllenhaal Family Tree Project
E-Mail: ed@gyllenhaal.org