The Hedvig Gyllenhaal Album
The Hedvig Gyllenhaal Album (click to enlarge)
Thumbnails images of the objects described in the catalog are here.
The photographs in this collection come from an album owned by Hedvig Julia Elisabet Gyllenhaal (1863-1931), who lived in Uppsala, Sweden. Hedvig was the third daughter of Lars Herman Gyllenhaal (1821-1912) and Maria Catharina Christina Aspegren (1832-1873).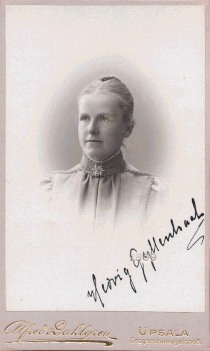 Hedvig Gyllenhaal 1863-1931 (click to enlarge)
Hedvig was born at Härlingstorp, in Norra Ving parish, Västergötland, where she grew up until the family moved to Uppsala in 1869. Her mother Maria died in 1873. Hedvig spent several summers (from 1874-1876) at Torpa near Jönköping, the home of her aunt Jacquette and uncle Hartvig Odencrants. For thirty one years, from 1886 to 1917, Hedvig was employed by the company Henrik Gahn AB. (The Gahns were friends of the family.) When she retired she was awarded a gold medal from the Patriotic Society. When her father Herman died in 1912 at the age of 91, Hedvig and her two sisters moved from St Larsgatan 9 to a more humble appartment at Österplan 7. Her sister Maria died in 1916, and Sofia in 1922. Hedvig had a communal plot for growing flowers and vegetables. She owned a camera, and took most of the photographs of the interior of the apartment at St Larsgatan (see the Centenary Album of Herman Gyllenhaal). A bookplate has survived that she made from one of her photographs. Hedvig did some traveling in northern Sweden (Jämtland) and Finland around the turn of the century.
Hedvig herself never married, and her album ended up in the Gyllenhaal Family Archive in Stockholm, in the home of her nephew Carl-Gustaf Gyllenhaal and his wife Inger. In 2001 their son Olle Gyllenhaal in Göteborg scanned the pages of the album into the computer as .jpg files and has, together with his parents, attempted to identify the individuals pictured. Most of the photographs date to the 19th century, with a few dating to the early part of the 20th century. Some photos have text written on the front or the back, and this has helped with the identifications. Where an identification has not been possible, the name of the photographer and the city have been noted.
Corrections, additions, or other information should be sent to The Gyllenhaal Family Tree Project, Box 757, Bryn Athyn, PA 19009 or ed@gyllenhaal.org
--Ed Gyllenhaal, July 2002, The Gyllenhaal Family Tree Project
---
Copyright © 1999-2002 The Gyllenhaal Family Tree Project
E-Mail: ed@gyllenhaal.org