The "Leonard" medal, 3 cm diameter (click to enlarge)
The Leonard Gyllenhaal medal was struck in 1848 by the Royal Swedish Academy of Sciences in honor of Leonard's contributions to the science of entomology (the study of insects). He had worked for approximately 30 years on Insecta Suecica, a three-volume work in which he classified and described Sweden's beetles. It was rewarded with the Academy of Sciences' gold medal, and Leonard was also elected to honorary membership in the Société Entomologique in Paris. In the tradition of the great Linnaeus (with whom he corresponded) Leonard introduced new methods for insect identification and classification.
According to Tom Braunerhielm, a medal expert at the Royal Coin Cabinet, the medal was engraved by P.H. Lundgren. The inscriptions are in Neo-Latin, the scholarly language at that time. The obverse has a portrait of Leonard wearing a medal, perhaps the one awarded to him by the Academy of Sciences. The inscription reads:
Leonhard Gyllenhaal
Swedish Entomologist
Born 1752
Died 1840
The reverse shows a man worshiping at an ancient altar with a small image of a goddess on the front of it. The inscription reads:
For a most deserving ally of the Royal Swedish Academy of Sciences
He worshiped the goddess in a small image
The phrase "he worshiped the goddess in a small image" may be a quote from a Roman author. This text obviously alludes to the image of the man worshiping at the altar. The meaning of the texts and compositions on these medals is often cryptic, but there is a clue on top of the altar.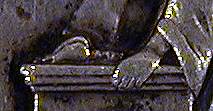 The "butterfly creeping out of its pupa"
According to Braunerhielm, the tiny figure on top of the altar is "a butterfly creeping out of its pupa." Under a microscope the butterfly (two wings showing) and the cigar-shaped chrysalis are fairly clear, though the engraver, working at such a small scale, left something to the imagination. This interpretation would make sense in the context of Leonard's entomological acheivements, which were the reason for striking the medal. The meaning may be that Leonard found the Divine through the smallest things of nature, i.e. insects. Leonard was known to be a strongly religious man, and was in fact a professed Swedenborgian.
As for the identity of the goddess, according to Braunerhielm it is the goddess Kybele, who was imported into Rome in ancient times from the Near East. Kybele was a nature or "mother earth" goddess. This may explain why Leonard would "worship the goddess in a small image." The scene would seem to imply that Leonard worshipped the Divine through nature in its smallest manifestations.
Further information on Leonard Gyllenhaal's interest in entomology can be found in a short biography of him by Olle Franzén. The above explanation of the meaning of the medal is somewhat speculative, and if anyone has further information or corrections please contact us at the address below.
Top | Home
---
Copyright © 1999-2000 The Gyllenhaal Family Tree Project
E-Mail: ed@gyllenhaal.org