Translated from an obituary in Nya Svenska Amerikanaren (The New Swedish-American), published in 1905. Author and translator unknown.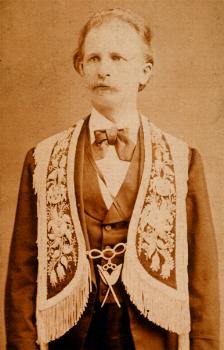 Click to enlarge
Anders Leonard Gyllenhaal (1842-1905)
Anders Leonard Gyllenhaal was a chivalrous man, and it was for a twofold reason that he was called "the nobleman of the press." In heart and mind he was a true knight, a veritable Seigneur de Bayard, without fear and reproach. By descent he was a member of Sweden's knighthood and nobility. He belonged to the noble line of Gyllenhaal, introduced into the Swedish orders of knighthood in the year 1672 under Proclamation no. 814. The family forefather, who was named Hahl and was a soldier of the Västergötland cavalry, was raised to the order of the nobility in 1652. He was also descended, albeit on his mother's side, from Sweden's two first Vasa kings, Gustav I and Erik XIV, from the latter through his daughter by Queen Karin Månsdotter, the princess Sigrid. One never heard him boast of his noble lineage or his education, although he was in both cases obviously above the masses, most likely due to his conscientious upbringing. The oldest son of foundry owner Frederick Leonard Gyllenhaal and his wife, born Westling, he first saw the light of day on the first of July, 1842, at Klotens iron foundry in Västmanland. Four years thereafter the family moved to Söfors foundry, and in 1857 to Torpshammar in the same province, when he owned the iron foundry there which bears the same name for several years. The oldest son attended (starting in 1851) the grammar school in Östersund and graduated from the University of Uppsala in 1860.
The young student went therewith to sea with a merchant ship, visited India and other lands of the Orient, and for several years experienced both the comforts and the horrors of the seaman's life. He returned to the university in 1862 to study towards a degree, and he had as friends, among others, the famed poets Carl Snoilsky and C.D. Wirsen. He studied philosophy in Uppsala, when, as the latter poet has written:
"The Plato of the North sat in the halls of learning and spoke, clearly and deeply, naively and learnedly, of the shining world of eternal ideas."
Christopher Jacob Boström's idealistic philosophy impressed him strongly, and he kept even unto the last moment the memory of his efforts of learning in the city by "Pyris' strand." He admired even more another idealistic father of Swedish learning: the theosophistic teachings of Emanuel Swedenborg was dearest of all to him. He was a Swedenborgian in his religious opinions, a fact which he never hid.
Leonard Gyllenhaal's stay in Uppsala was not long, however. His father was suddenly plagued with financial problems, and his studies had to be broken off in 1863.
Two years later he emigrated to America. Already as a young sailor he had shown that he was not afraid to forge ahead. He took the first decent job he could find, and so was employed for a time in a hat factory in Brooklyn.
In 1867, an enterprise-inclined Swede formed a company for the management of lands in southern Missouri, where lead mines and the company itself were to be run. Gyllenhaal was involved in the enterprise, which in the meantime had to be given up because of economic shortages, to others who were said to have become rich from their lead mines.
Gyllenhaal spent the year of 1870 in Chicago, but traveled the year after that to Sunflower County, Miss., where in a joint venture with others from his homeland he bought a cotton plantation. Here he worked for a time, but malarial fever drove him back to Chicago in the same year. There he took employment at the Western News Co., where he remained until April of 1874, when he entered into the editorship of the newspaper Nya Svenska Amerikanaren (The New Swedish-American). When the paper's owner C.J. Stenqvist sold the publication's influence to the Democrats, the loyal Republican Gyllenhaal left and was taken on as a co-worker in the newspaper Gamla och Nya Hemlandet, where he stayed until the end of 1890. On the first of January, 1891, he went over to Svenska Tribunen, and in 1893 became its chief editor, the position which he held when he passed away the 17th of this month. In the marriage into which he entered with Selma Nelson on March 4, 1880, he had 8 children, 7 of which survive him.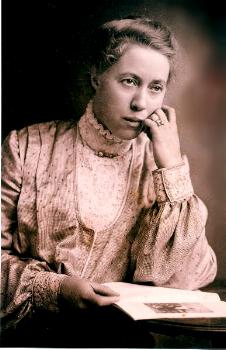 Click to enlarge
Selma Amanda (Nelson) Gyllenhaal (1861-1948)
One of Gyllenhaal's friends, Mr. E.W.O., characterizes the deceased as follows: "He had one of the best minds of the Swedish-American press, and he put all of his considerable energies into his work. Perhaps no other of our newspapermen have gone so completely into the routines of journalism as he has...What this right-minded and true man of the pen has accomplished through our Swedish-American press in these 30 years in regard to leading the opinions of the public in the right course cannot be measured by any elegies. He never carried out an independent authorship, but with persevering industry he has, unnoticed and anonymous, sown the seed of noble thought in the minds of hundreds of thousands of readers."
Another of his friends writes: "G. was Americanized, and fought with strength against all wrongs and bad habits which his landsmen had brought with them from Sweden to the new country. He was a Swedish-American and as such commended all that was good and honorably Swedish which could be of benefit to the American culture."
Perhaps the most outstanding characterization of the departed man of honor came from his spiritual shepherd, Pastor D.H. Klein, in the funeral sermon which he held for his peer and friend, wherein the following, among other things, was said: "We have all reason for thankfulness towards and devotion to our now sleeping brother, who with his genuine nature spread such pleasant sunshine in his surroundings. Steadfastness in all of life's phases was an outstanding aspect of his character. His fidelity to his family and his loyalty to his church were, we believe, grounded in his faithfulness to his God. As every man knows, he was steadfast in his calling here on earth, and he devoted himself thereto with a hardiness which did not ever bend even for the last years' difficulties, and was called away by death even while he yet stood in active practice of his life's calling. Humble and introspective as he was, he worked strongly within his sphere by his noble character. His association with his fellow human beings was remarkable in its gallantry, which came from the heart: he combined the worthiness of a prince with the mildness of a father in the most amiable way. For him, this was not a borrowed attribute, as is the case with Europe's worldly men, who have through the ages learned the bad habit of having the appearance of courtesy, kindness, and all of society's finesses only before other people; no, this was for him the everyday manner, and his loving heart beat warmly for his fellow human beings. He was so mild in his innermost personality, so subtly beautiful in his character, that we are unable with mere words to reproduce the beauty of a spring morning."
There is little left to add here. The persevering and industrious worker has come to his well-deserved rest. For us who are left come days with their work and their trials--and then they go.
"And the waves sing again their song and the winds shift upon their playing course; but the memory of the noble, that remains!"
Top | Home
---
Copyright © 1999-2000 The Gyllenhaal Family Tree Project
E-Mail: ed@gyllenhaal.org